we made this for you
Customers
ready, set, go!
bet informed customers
We created our product with many users in mind and make it easy
to get the insights you need at the moment you need them.

Here are just a few examples of typical customer profiles.
sports fans
Sports fans will love Bet Informed as it allows you to track the performance of your favorite team in great detail and drill deeper into Historic, Pre-Match and Live data.
If you love football, you will love what you're able to get out of our platform.

content publishers
Journalists, sports writers and football bloggers will find a treasure trove of data here and we've even created extra features to make your life easier.
If you would like access to our Partner features,
get in touch
and we'll hook you up.
data analysts
We already did the heavy lifting so you don't have to. Queries, joins, cleanses and removing duplicates are now a thing of the past. Just search, add and view.
If you would like to know more about our Partner features,
get in touch
.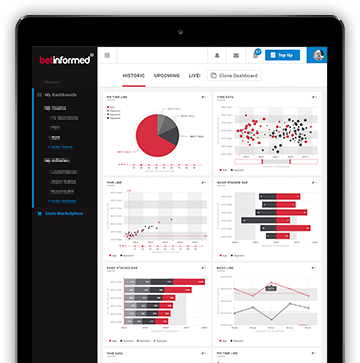 try bet informed
BET INFORMED IS FREE
Cudos, you're still browsing the site.
So c'mon, why not take this baby for a spin huh?
beta has closed